Today, Madama Butterfly is one of the most adored stage shows in any opera company's repertoire. Around the world, its appearance on a season schedule incites anticipation and excitement within the local arts community. But the immense popularity of this production nowadays is a stark contrast to its awkward beginnings on the original opening night over 100 years ago.
After the unqualified successes of La Bohème in 1896 and Tosca in 1900, the Milanese society at the famous La Scala opera house was expecting big things from the premier of Giacomo Puccini's latest effort in 1904, Madama Butterfly.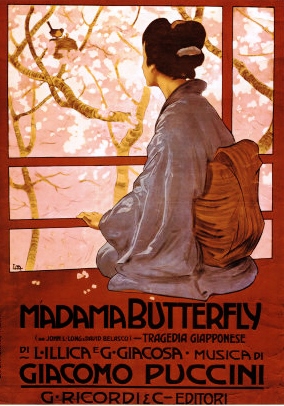 The bubbly and glamorous Rosina Storchio, a crowd favorite, was cast as the lead soprano and she opened the show with an energetic prelude in her role as Cio-Cio-San. But instead of the anticipated uproar of applause and "bravas!" from the audience, there was only the deafening sound of silence. Crickets. A rare response, indeed, from the normally fervent La Scala crowd.
The rest of that night at the opera didn't go much better. Puccini was distraught, to say the least. So much so that he cancelled the remaining shows in Milan, refunded the money he had been advanced, and took his musical score back to the proverbial drawing board.
Several months later, the revised version was relaunched in Brescia, led by Maestro Arturo Toscanini. This time the performance duly wowed the audience. More than wowed them, they were overcome by the emotion of the music and the passion of the singers' voices. There were boisterous cheers, prolonged rounds of applause, and repeated calls for encores!
The precise reasons for the lukewarm opening night have never been adequately explained. Suffice to say, whatever issues that had cursed the premier performance have long since been worked out. According to OperaBase, Madama Butterfly was the #5 opera in the world for the 2014-2015 season; right behind another one of Puccini's blockbusters, Tosca.