Our Mission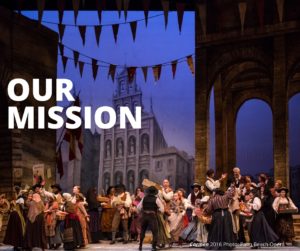 Palm Beach Opera is dedicated to producing live opera at an international standard of excellence, to enriching the life of the communities it serves with a diverse offering of educational programs, and to training the next generation of opera stars.
Founded in 1961, the fully professional Palm Beach Opera presents main stage performances at the Kravis Center for the Performing Arts in West Palm Beach and is a proud member of OPERA America and the Cultural Council of Palm Beach County.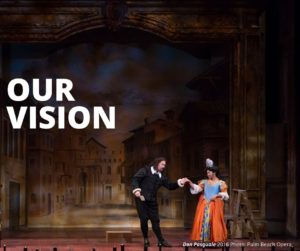 Our Vision
To set the benchmark for artistic excellence by producing impactful and innovative operatic experiences.
To provide and be a source of inspiration and an avenue of expression for our community through meaningful engagement.
To have an abundance of resources with structural stability to foster sustainable growth.
"We believe in the transformative power of live opera performances. Every day, we plan, create, and produce engaging operatic experiences to bring our community together in an increasingly disconnected world."
Overview
Palm Beach Opera offers a variety of cultural programs from December through April, including fully staged mainstage opera productions, rigorous artist training programs for emerging professional opera singers, and diverse education and community engagement programs, such as Children's Performance, Concerts in the Classroom, Story Time Series, Opera Rehearsal 101, Lunch & Learn, and more.
Internationally acclaimed artists come to Palm Beach Opera from both the US and abroad, and have performed at all major opera houses worldwide. The Palm Beach Opera Chorus (up to 50 local singers who are committed to the highest musical values) and the Palm Beach Opera Orchestra (up to 75 musicians who have worked with major professional orchestras both nationally and internationally) enhance the company's artistic productions. Palm Beach Opera is governed by a strong and dedicated Board of Directors, and has an annual operating budget of $6.0-$6.4 MM.