2019-2020 Season
2022 GALA — AN EVENING WITH NADINE SIERRA
6:30PM, Monday, February 7, 2022
The Breakers Palm Beach
Save the date for an exclusive celebration of opera, elegance, and entertainment on Monday, February 7 at The Breakers Palm Beach. Enjoy an elegant dinner and be enchanted by the artistry and amazing voice of the internationally renowned soprano, Nadine Sierra.
Palm Beach Opera's largest annual fundraising event, the gala showcases the foremost stars in opera in an intimate and exclusive recital in the area's most opulent venues. A highlight of the Palm Beach social calendar each year, the gala brings together opera lovers and community leaders to enjoy an evening of glamour, artistry, and a delectable dinner, while supporting the company's continued mission of bringing world-class opera to South Florida.
About Nadine Sierra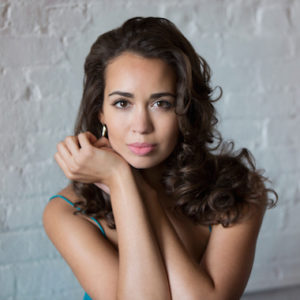 Praised for her vocal beauty, seamless technique, and abundant musicality, Nadine Sierra is being hailed as one of the most promising, young talents in opera today. She was named the Richard Tucker Award Winner in 2017 and was awarded the 2018 Beverly Sills Artist Award by The Metropolitan Opera. Having made a string of successful debuts at The Met, Teatro alla Scala, Opéra national de Paris, and Staatsoper Berlin, she has become a fixture at many of the top houses around the world.
Ms. Sierra fell in love with opera at a young age, after watching a VHS of La bohème, and began voice lessons at the age of six in her home state of Florida. Although she made her professional operatic debut as a teenager with Palm Beach Opera, she decided to continue studying and received her bachelor's degree from Mannes School of Music. Following graduation, she went on to participate in the Adler Fellowship Program at the San Francisco Opera, forming a lasting relationship with the company.
To join the Host Committee or Gala Council, please contact David Walker, General & Artistic Director, at dwalker@pbopera.org or 561-835-7563.
Due to recent developments regarding COVID-19 in our community, and in an effort to maximize safety and ensure consistent masking, we have made important changes to the 2022 Gala. The gala will still take place at The Breakers Palm Beach on February 7, but we've made some changes to ensure a comfortable experience. Please read pbopera.org/faq for the latest updates.
---
Gala Chairs
Isanne & Sanford Fisher
Honorary Immediate Past Co-Chairs
Mrs. Lee Ann Alderton
Mrs. Rebecca Doane
Mrs. Joan Genser
Mrs. Florence Kaufman
Grand Gala Sponsor
Mrs. Veronica Atkins
Gala Council
Mr. & Mrs. Jeffrey H. Alderton
Mrs. Veronica Atkins
Mr. & Mrs. Theodore Berenson
Mr. & Mrs. William G. Brown
Mr. & Mrs. Randell Doane
Dr. & Mrs. Robert Desnick
Mr. & Mrs. Paul Efron
Isanne & Sanford Fisher
Mr. and Mrs. Robert Fromer
Mr. & Mrs. David Genser
Mr. & Mrs. Allan Greenblatt
Mrs. Arlene Kaufman & Mr. Sanford Baklor
Mrs. Florence Kaufman
Judy & Jerry Kaufman
Mr. & Mrs. Sidney Kohl
Drs. Marsha & Henry Laufer
Dr. & Mrs. Morton Mandell
Dr. Donna K. & Mr. John Raggio
Ms. Ari Rifkin
Mr. & Mrs. Martin Sosnoff
Mr. & Mrs. Dennis Williams
Nadine Sierra Underwriter
Isanne & Sanford Fisher
Platinum Sponsors
Mr. and Mrs. William G. Brown
Drs. Marsha & Henry Laufer
Young & Apprentice Artist Sponsors
Cynthia & Theodore Berenson
Gold Sponsors
Mr. & Mrs. Jeffrey H. Alderton
Dr. Robert Biscup
Dr. & Mrs. Robert Desnick
Mr. & Mrs. Randell Doane
Mr. & Mrs. David Genser
Mr. & Mrs. Allan Greenblatt
Dr. & Mrs. Morton Mandell
Dr. Donna K. & Mr. John Raggio
Mrs. Ari Rifkin
Mr. & Mrs. Martin Sosnoff
Mr. & Mrs. Dennis Williams
Bryan Wagorn Underwriters
Judy & Jerry Kaufman
Decor Underwriters
Mr. & Mrs. Robert Fromer
Evening Music and Entertainment Underwriter
Mrs. Florence Kaufman
Invitation Underwriters
Mr. & Mrs. Paul Efron
Cocktail Reception Underwriter
Mr. Mrs. Sidney Kohl
Major Sponsor's Bruncheon
Ms. Arlene Kaufman & Mr. Sanford Baklor
Silver Sponsors
Barbara Greis & Howard Gottlieb
Dr. Frayda Lindeman
Fine Wine Underwriters
Mr. & Mrs. David Herwitz
Gala Keepsake Underwriter
Mr. Marc S. Solomon
Bronze Sponsors
Ruth Baum
Mr. & Mrs. Ken Brodlieb
Mr. & Mrs. Gerald Fineberg
Ms. Beth Grosshans & Mr. Dennis Stattman
Mr. & Mrs. Paul Kozloff
Mr. & Mrs. Scott Laurans
Mr. Nathan Leventhal
Mr. & Mrs. Ellis Jay Parker
Photography Underwriters
Mr. & Mrs. John Shalam
Recital Aria Underwriter
Melissa Sullivan
Couple Sponsors
Mr. & Mrs. Max Ansbrucher
Mr. David Brodsky
Mr. & Mrs. Peter Brown
Dr. Louise Cohen
Mr. & Mrs. Robert Epstein
Mrs. Arlette Gordon
Mr. & Mrs. Charles Gottesman
Mr. & Mrs. Peter Hoffman
Mr. & Mrs. Robert Krauss
Mr. Sam Lehrman
Mr. & Mrs. Charles Mooney
Barbara Goldfarb Tepperman & Fred Tepperman
Patron Sponsors
Mrs. Lisa L. Huertas
Mrs. Elaine Kay
Mrs. Anka Palitz
Ms. Barbara Sidell
Evening Donation
Mrs. Linda Taub