Studio Program
Entering its 17th season, Palm Beach Opera Studio is a transformative training program for high school students interested in a career in the performing arts.
During the eight-month program, participants work with Palm Beach Opera staff and guest faculty to develop their skills and gain valuable insights.  Artists receive regular voice lessons and musical coaching, participate in masterclasses, and attend sessions on vocal pedagogy, diction, opera history, stagecraft, and audition techniques.  They also receive guidance and assistance with resumes, headshots, and recordings to prepare for college applications and summer training programs.  Studio members are offered exclusive access to observe Palm Beach Opera's professional rehearsals and receive tickets to each mainstage production.  Performance opportunities are available throughout the program, including the annual capstone recital in April.
The generous support of the Palm Beach Opera Guild makes it possible to offer this program free of charge to all participants.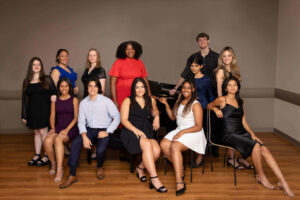 2022-2023 PBO Studio members
*Now accepting applications to Palm Beach Opera's renowned STUDIO Program for High School Juniors and Seniors. 2023-2024 APPLICATION DEADLINE JULY 1, 2023.
WHO IS ELIGIBLE?
Students entering the 11th and 12th grade who demonstrate a strong interest in a performing arts career.  Students must be willing and able to commit to the rigorous program schedule which includes regular weekend sessions, monthly lessons, and rehearsal and performance attendance.
HOW TO APPLY?
Find the program application here: Studio Application 23-24.  Please download, complete, and return the application to jwilson@pbopera.org by Saturday, July 1, 2023.
With the application, students must include a résumé and video recordings of two contrasting classical pieces (art song, folk song, or aria), sent to jwilson@pbopera.org.  Videos may be uploaded to YouTube or Vimeo, or PBO can provide a Dropbox link for uploading files on request.  Webcam or mobile phone recordings are perfectly acceptable and expected.
When applying, please note the 2023-2024 anticipated Studio calendar, found within the application.  We are still finalizing our calendar for next season, but this draft provides an overview of the time commitment and scope of the program.
APPLICATION PACKET CHECKLIST
Application Form
Résumé
2 Video Recordings
NOTIFICATION OF ACCEPTANCE
Selected applicants will be asked to audition and interview in person, to be scheduled by appointment in mid-July.  Applicants will then receive notification of acceptance via e-mail by August 1, 2023.  Upon notification, accepted students will have 7 days to accept or decline the offer.
For more information, please contact PBO Studio Teacher and Administrator Jennifer Wilson at jwilson@pbopera.org.
"Studio has not only increased my love of opera, but it has inspired me to want to pursue classical voice performance in college. I am so thankful for the relationships I have made through this program and I am truly grateful for such an amazing opportunity."
"Studio has given me so many opportunities to become not only a better singer, but also a better person."
"Studio has helped me improve my confidence on stage and prepared me for college auditions."
—Palm Beach Opera Studio alumni
22-23 Season Palm Beach Opera Studio Artists
Jacqueline Alvarado*, A.W. Dreyfoos School of the Arts
Maya Brown, North Broward Preparatory School
Lilyadny De Leon, A.W. Dreyfoos School of the Arts
Ava Diamond, William T Dwyer High School
Eli Farrell, Suncoast High School
Layton Fernsell, A.W. Dreyfoos School of the Arts
Andrew Gellen, A.W. Dreyfoos School of the Arts
Amelia Ostamendy*, North Broward Preparatory School
Yolanda Santana*, A.W. Dreyfoos School of the Arts
Lalima Sharan, A.W. Dreyfoos School of the Arts
Madison Silver, A.W. Dreyfoos School of the Arts
Kennedy Williams, Suncoast High School
*2nd year Studio artist
2021-2022 Season Studio Artists
Jacqueline Alvarado, A.W. Dreyfoos School of the Arts
Robert Barrett, A.W. Dreyfoos School of the Arts
Marbella Deininger Zayas*, A.W. Dreyfoos School of the Arts
Sydney Horan*, A.W. Dreyfoos School of the Arts
Ava Neary, A.W. Dreyfoos School of the Arts
Amelia Ostamendy, North Broward Preparatory School
Matthew Pollak*, A.W. Dreyfoos School of the Arts
Yolanda Camila Santana, A.W. Dreyfoos School of the Arts
Rebecca Voigt*, North Broward Preparatory School
Reed Wolfrom*, A.W. Dreyfoos School of the Arts
*2nd year Studio artist
**previously completed 2 years of Studio's Performance Track
2020-2021 Season Studio Artists
Emma Beers**+, Jupiter Christian School
Devin Embrich*, William T. Dwyer High School
Marbella Deininger Zayas, A.W. Dreyfoos School of the Arts
Sydney Horan, A.W. Dreyfoos School of the Arts
Lucy Kleinschmidt*, Saint Edward's School
Gabriella Pizzi**+, A.W. Dreyfoos School of the Arts
Matthew Pollak, A.W. Dreyfoos School of the Arts
Hope Sears**+, A.W. Dreyfoos School of the Arts
Sophia Marie Spencer*, Cardinal Gibbons High School
Rebecca Voigt, North Broward Preparatory School
Reed Wolfrom, A.W. Dreyfoos School of the Arts
Dena Simonne Wolfs, Suncoast Community High School
Kayla Esther Zakarin, A.W. Dreyfoos School of the Arts
2019-2020 Season Studio Artists
Emma Beers*, Jupiter Christian School
Jane Djajaputra, Atlantic Community High School
Devin Embrich, William T. Dwyer High School
Zaryah Gourgel*, A.W. Dreyfoos School of the Arts
Jacqueline Kaskel*, A.W. Dreyfoos School of the Arts
Lucy Kleinschmidt, Saint Edward's School
Gabriella Pizzi*, A.W. Dreyfoos School of the Arts,
Kwame Ratliff, A.W. Dreyfoos School of the Arts
Alex Robinson, A.W. Dreyfoos School of the Arts
Hope Sears*, A.W. Dreyfoos School of the Arts
Sophia Spencer, Cardinal Gibbons High School
Mckayla Williams*, Park Vista Community High School
Jillian Fipps, Spanish River Community High School
2018-2019 Season Studio Artists
Emma Beers, Jupiter Christian School
Isabella Caggiani*, A.W. Dreyfoos School of the Arts
Zaryah Gourgel, A.W. Dreyfoos School of the Arts
Abby Guido, Park Vista High School
Jacqueline Kaskel, A.W. Dreyfoos School of the Arts
Emily Mandell, Boynton Beach Community High School
Gabriella Pizzi, A.W. Dreyfoos School of the Arts
Hope Sears, A.W. Dreyfoos School of the Arts
James Seton, Suncoast Community High School
Shayna Singer*, North Broward Preparatory School
Mckayla Williams, Park Vista High School
Katherine Zeda*, A.W. Dreyfoos School of the Arts
*2nd year Studio artist
**previously completed 2 years of Studio's Performance Track
+Arts Administration track